---
Future Bodies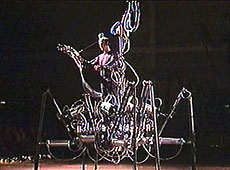 To draw attention to the real future of cybernetics, it is not sufficient to create machines that simply attach to the body. We believe the two must be integrated in a natural and synergistic way. We live in a fashion conscious culture and it is unlikely that wearable machines of the future will be of the cumbersome type that has been seen from many "cyborg artists". Stelarc's Exoskeleton project, for instance, posseses all the trappings of cybernetics and certainly extends his physical vehicle, but it is not the kind of apparatus anyone would want to walk around in everyday.
The Center For Metahuman Exploration has created some fantastic cybernetic devices for Absentee Ballot and others similar projects, but again these are cumbersome devices, exhibiting a standard mechanical geometry in their visual aesthetics.


Instead, cybernetics will likely be worn as decorative elements, expressing individual tastes, much like watches, sunglasses, and pagers today. For example, consider the progress of cell phones, how ubiquitous they've become, and how personalized and integrated into our fashion styles they've become.


The body modification community has already begun extending the definition of the body by pushing the boundaries of expected body forms. The new field of implant modifications, pioneered by Steve Haworth, is allowing individuals to aesthetically reshape their bodies in unexpected ways. Jesse has been deeply involved with Steve in new experiments with custom carved implant forms in silicone and teflon, allowing people to express alien body forms.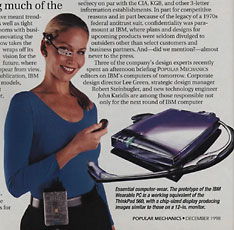 How long will it be before such implants have technological functionality as well? Externally worn cybernetic units have already begun to appear on the consumer market, and work such as Warwick's allows for the implantation of passive, unpowered transmission technologies. The real problem with high function, implanted cybernetics is the power supply. Anything battery driven would require surgery every time the battery needed replaced. Running power lines from an external source into the skin opens too many risks for infection. However, research into transcutaneous electrical transfer (the use of an implanted inductance coil and an external coil to pass a current through the skin without an opening) brings imbedded cybernetics closer to reality.Such systems are already being used in some electrical stimulation units designed to give paraplegic individuals rudimentary standing and walking capabilities.
Embedded "normalizing" cybernetics is becoming more widespread, for example prosthetic limbs controlled via electromyography. Body modification pioneers may likely be the first group to extensively integrate enhancing, augmenting cybernetic functionality underneath the skin. I think the future of cybernetic modifications will likely be accepted by mainstream culture much more quickly than aesthetic modifications have, simply because they do have practical purposes. People in this culture love their useful tech gadgets. Also, by the time the technologies are stable enough for commercial internalized cybernetics, going under the skin might have a much wider acceptance because of the work in aesthetic modifications that's happening now. The transition from miniature wearables to implantables might be really subtle, too subtle for most people to bother making a distinction. Two years ago I had the opportunity to try on
a prototype micro-mini display that clips to eye glasses, developed at MIT. This is a more recent version using a reflector surface on the lens. These displays work in conjunction with clip on wearable processors & chording keyboards. A recent TV commercial, showing a day trader in a park shouting "buy! buy! sell!" as her operates his almost invisible wearable computer, suggests that products such as this will very soon be available to the consumer. The next step might be something you put in like a contact lens. What's the leap from there to a display implanted under the cornea? Who here sees a distinction? For those of you who raised your hand, how many also make a distinction between contact lenses and vision correcting laser eye surgery?

---
| | | |
| --- | --- | --- |
| The Psymbiote Develops | | Transforming Boundaries |